Drupal is a popular content management system that helps you create, publish and manage websites. The open-source project is available free of charge and supported by all common hosting providers. The software is also particularly popular because of its community management options regarding its high scalability.

You can use Drupal to create clean content platforms such as blogs or forums as well as large web projects that require complex site structures. However you decide: the modular principle enables you to design websites in an easy and flexible way. The highly active global Drupal community regularly expands the system by versatile functions. You as well can add modules of your own, whatever is suitable for your company. In the meantime, more than 40.000 extensions are freely available to individually adapt your web projects to your needs.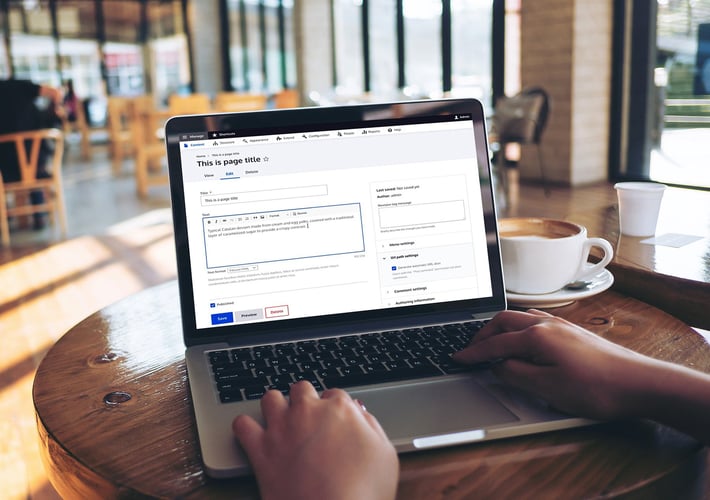 What Drupal offers
Scalability
Drupal combines built-in performance features with a global CDN provider. This ensures reliably fast loading times throughout all your platforms and mobile devices – and thus defines an ideal premise for integrating your project into the dynamic network.
Fast and easy setup
Drupal Core
The starting point of your Drupal website is Drupal Core. Download this official data package and gain various modules and themes for building your website with. The package also includes comprehensive default features (blog option, community management tools, contact forms, etc.).

Advanced features
Beyond the standard features, a range of extensible functions are applicable to your Drupal website as well. You can design functions (modules) and visual design elements (features) yourself or add existing ones. This will increase the functionality of your project and personalize your website experience.

Complete packages
You can achieve a particularly fast setup of your complex and user-specific website by downloading various distributions. These packages contain Drupal Core, advanced modules, themes and predefined configurations. They can save you the trouble of downloading and assembling the individual elements on your own.
Content-Authoring
Creating relevant and personal content is key to a successful website. With Drupal you can create your content, make it available cross-channel and link it to other marketing tools to reach your target group in social media, Google etc. Drupal provides you with a central overview of your website content and campaigns. You are also able to adapt and optimize them at any time. This creates a consistent brand image and attracts traffic to your site.
Content-as-a-Service: With its multisite and Content-as-a-Service (CaaS) functionality Drupal supports comprehensive digital content lifecycle management.
Multilingualism
Another interesting Drupal-feature is its multilingual capability, which allows you to automatically have your content translated. Drupal Core functions determine the preferred language settings of your visitors resp. users and automatically translate your content (blog post, navigation bar, web interface and/or configuration etc.). The automatic language adaptation not only facilitates international cooperation within your web project. It also increases your visibility in search engines and creates trust in your potential customers.
Marketing Automation
You can use Drupal as a customer relationship management service (short CRM) – and enjoy all the benefits of marketing automation software. This is particularly useful if you want to efficiently manage large user and content databases.
In order to generate potential leads from your collected customer data at the right time, the software offers tools, modules and integrations that enable your individual online marketing strategy:
Integrate social media, Shopify, Mailchimp, Google Analytics, HubSpot and Co.
Analyse your target group
Use content marketing and email marketing effectively
Monitor your traffic
Evaluate the statistics of your conversions
Optimise your workflows
Increase your search rank (drupal SEO) and decrease your bounce rates with fast loading times
Personalisation
To give your potential customers a unique online experience within your website, you need to personally address each visitor. With Drupal you can create key buyer personas, which you can customize due to numerous supporting features. Geolocation, browser history, device type and behavioral taxonomies etc. segment your visitors and identify relevant data. They enable you to target your marketing efforts more effectively – and to ultimately increase your ROI.
You would like to base your web project on a powerful CMS? We will advise you in detail on your possibilities with Drupal and support you in developing the optimal solution for your company. Contact us now!