Creating, optimizing and managing social media channels
The future generation of employees is currently in school, at a university or doing an apprenticeship. When they have completed their education or training, they will have many job offers to choose from. Considering this, it is important to make them aware of your business before this happens. And of course it is important to get their attention where they actually spend their time – on social media.
Career apps (iOs, Android) and responsive web design
When hunting for a job, people are increasingly using their smartphones. In spring 2012, already 25% of potential applicants used their mobile devices to look for new jobs in Switzerland. 14% of Germans did the same (Source: Google, "Our mobile Planet"). Nevertheless, there are still many companies who have not yet made their websites responsive.
Programming career pages
Every good business website features a career page nowadays. In order to increase the chances of success, it is available to have a denoted landing page. Landing pages have all necessary information an applicant needs ready in one place and should furthermore feature a contact form. In order to have a long-term approach to human resources, a career blog with regular updates presents a great way of keeping talents up to date.
Text and design
Whether it is a website, and advert or a blog – we breather life into your communication tools.
Service Level Packages / Month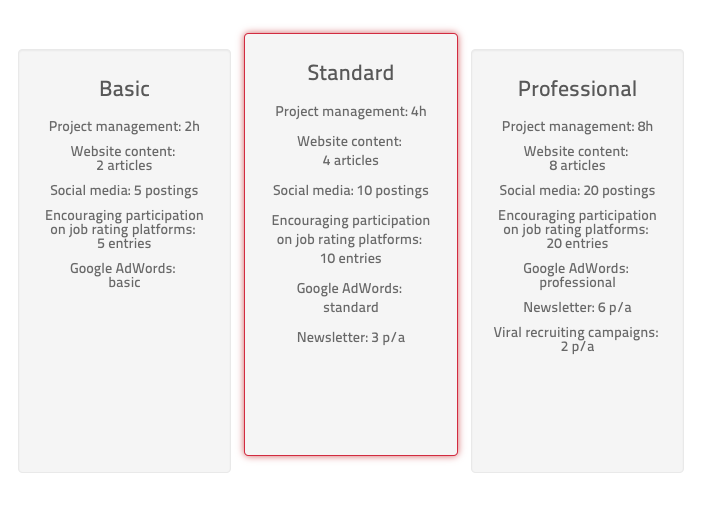 Do you rather have an individual service package? We are happy to advice you on the solution that suits your needs the best. Get in touch!