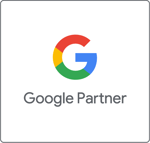 W4 is an official Google Ads partner. We have certified Google Ads Experts in our team. Our colleagues have all taken and passed various exams that verify their expertise in the field. They are qualified to help you to advertise successfully with Google Ads.

Our services
Comprehensive keyword analysis based on your target group
Strategy and concept of your Google Ads campaign
Creating valuable advertising copy with call to action
Campaign-tracking to measure conversions and clicks
Continuous reporting and optimization of your campaigns
Consulting and Google Ads training
Get in touch now and profit from the many advantages of Google Ads. In order to take full advantage of the benefits of Google Ads, we recommend to do a search engine optimization. Learn more about this on our dedicated page on search engine optimization.