A modern, yet traditional practice, founded over 70 years ago and since then a cross-generational workplace - this is DIE RADIOLOGEN Regensburg•Regenstauf. Today, the radiology practice is represented at four locations in and around Regensburg. From January 2023, they will take over the Mammographie Screening Programm Oberpfalz. An important task for which they needed more staff – a goal that was successfully accomplished at the end of the year!
Like many medical institutions, radiologies are struggling with the shortage of skilled workers, especially in recent years. W4 has been working with DIE RADIOLOGEN for many years as a partner of the radiology network. In 2022, a comprehensive employer branding campaign was to be launched to attract new employees and at the same time make the practice more visible at its various locations.
Together DIE RADIOLOGEN and W4 decided that the campaign should be broadly spread and, above all, appeal to young people. A strong online presence with social media appearances was therefore essential. But print materials were also to be used to attract attention in the region offline. The goal was clear: by the end of 2022, all necessary positions for the new locations of the mammography screening programme should be allocated.
A modern image for a modern radiology practice

Medical facilities usually have other priorities than working on a modern appearance – or building a reputation among the general and especially young population at all. But it is also important for a radiology practice and similar health facilities to show presence both offline and online. For DIE RADIOLOGEN, we have therefore decided to highlight all the benefits of working in the practice more clearly and also to let the staff members express themselves.
Social media marketing was optimised: Among other things, a uniform editorial plan was introduced which contains various topic clusters – for example, the introduction of individual team members. Whether it's an info post, a team introduction or holiday greetings – all with the aim of showing followers a close, authentic and modern practice that cares equally about the well-being of its patients and staff. In addition, job announcements can also be included in many info and team posts. Vacancies are thus constantly visible. The portals used were the classic social media channels: Instagram, Facebook, and the job-related channels Xing and LinkedIn.
ONLINE ADVERTISING AS MULTIPLIER
With targeted ad placement, even more attention could be generated. Job advertisements on the website have been optimised with matching keywords so that the associated Google ads target the appropriate search results. In addition to Google Adwords, social media ads were also placed on Facebook, Instagram and LinkedIn. Since many applicants also search for a position on traditional job portals, W4 also placed ads on Indeed. All vacancies were thus advertised across a wide area and in a way that was relevant to the target group, in order to draw attention to the opportunities at DIE RADIOLOGEN and to reach a higher number of applicants in the long term.
THE POWER OF PRINT ADVERTISING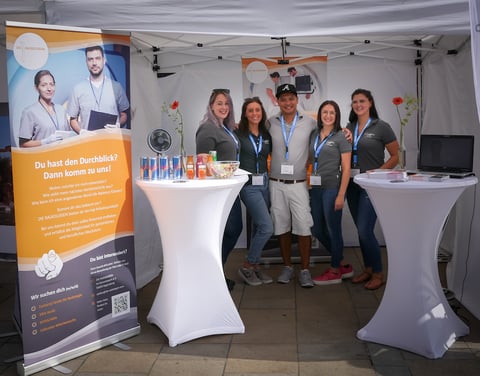 Even in 2022, print advertising is still relevant and important. An attractively designed flyer is gladly taken along, looked at and passed on. That's how you are remembered. Therefore W4 has always designed matching flyers for all job advertisements. For more information about DIE RADIOLOGEN, a brochure was also made. It contains more information about the doctors, the history of the practice, job offers and apprenticeships. But also insights on joint activities and fun facts to enhance the image.

DIE RADIOLOGEN were also represented at career fairs this year, for which large pop-up banners were designed so that the practice is an eye-catcher from afar.
«For more than 7 years, I've had a reliable partner for professional marketing support in the W4 team. Always competent, always solution-oriented, always top motivated. I rarely make recommendations, but with this team I can do so with a clear conscience. Why? When you get what you order, that's called reliable. Here you get what you order and a little extra with a smile - that's what I call reliably inspiring.»
Xiel Brendel, Senior Project manager, IT-Administration, Marketing & Recruiting Manager
DIE RADIOLOGEN Regensburg•Regenstauf
The journey with DIE RADIOLOGEN is a nice example of how an occasional print order can evolve into a continuous digital content subscription. Whether digital or analogue – it is important that the practice is perceived by patients and colleagues and that the active employer branding is not only shown through advertising measures, but is also carried out internally. Together with W4, DIE RADIOLOGEN have achieved their goal: all the necessary positions for the new mammography screening programme have been filled!
For over 10 years, we have been involved in practice communication and support doctors in their daily practice marketing. We would be happy to find the perfect solution for your practice's needs in the area of Medical Practice Marketing. From planning to implementation, we are there to advise you and support you in the regular maintenance of your website and social media. Get in touch with us!