Heberlein, a company with a long tradition, wanted a modern, fresh and appealing brand image that matched the company's image for an adequate presentation of the company at various events such as trade fairs. As the world's leading supplier of air interlacing and air bubble texturing nozzles for continuous synthetic yarns, Heberlein wanted to have assets that conveyed the company's high-tech, progressive and future-oriented aspirations.

With W4's graphics and design team, Heberlein enlisted a competent and creative partner for this project: We implement complex, sophisticated media designs for stand-out branding.
The Challenge
At the beginning of the project, the focus was on an image brochure for a successful trade show appearance. To a certain extent, this was to function as a signboard for the company, e.g. at events. The goal was to bring Heberlein's quality and innovation to the fore with a new design and thus breathe "life" into the brochure. Heberlein also commissioned an image film that would paint a comprehensive, dynamic and authentic picture of the company.
For the creation of the powerful product images and the film production, we collaborated with Flamisch, an agency for photo and film productions.


THE PROJECT – DEVELOPMENT & REALIZATION
What started with an image brochure ended with a full-scale rebranding and media design including social media marketing with 3D visualizations.
But let's start at the beginning: at the beginning of the project, after consulting and conceptual work, a professional photo shoot was conducted, resulting in fascinating product shots and authentic profile pictures of the Heberlein team.

We developed the design of the new image brochure in close consultation with the client to meet their requirements. In doing so, we additionally incorporated our creativity and know-how to create a versatile asset that exceeds the customer's expectations. Flamisch's professionally edited imagery blends seamlessly with our brochure design, reflecting Heberlein's expertise as well as progressiveness.

Furthermore, our graphics team was responsible for the storyboard and art direction of the image film. In constructive cooperation with Flamisch's production team, a really successful image film was created that presents the company from its dynamic side - ideal for trade fair appearances and presentations. The client was so taken with the results that he decided without further ado to commission additional assets for a comprehensive rebranding.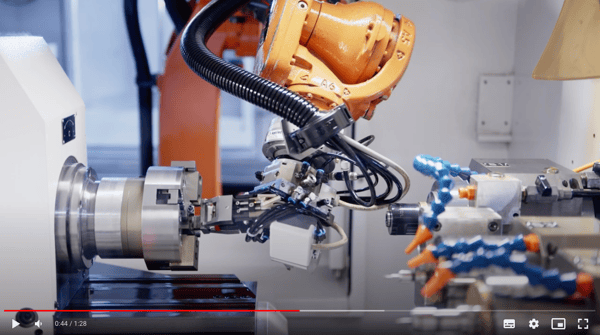 We designed all print materials such as product data sheets or the magazine cover for a strong as well as striking trade show presence and provided them with a fresh design concept. In addition, we designed print ads and created videos for social media marketing with 3D animations, for example for the popular messenger platform WeChat. These videos focus on two popular products from Heberlein, the SlideJet and the AirSplicer-3 Flex. They are true flagships of the company and as such deserve a sophisticated video treatment with 3D visualization.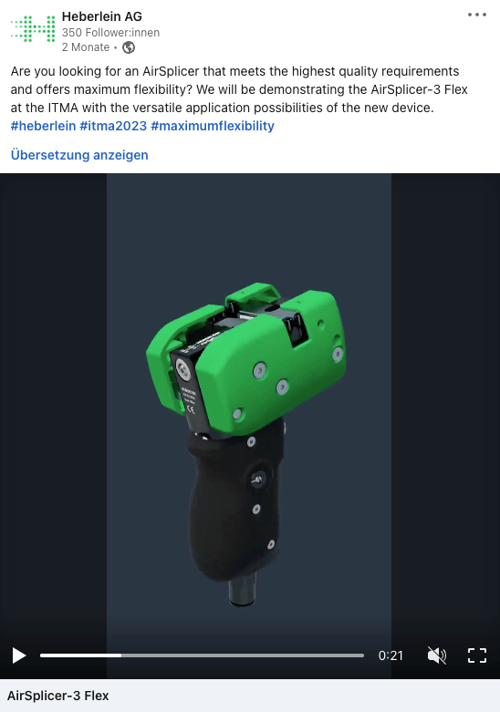 In the course of our work on videos for social media platforms, the customer's desire for a professional and comprehensive WeChat concept arose. As a full-service provider that helps companies tap into the Chinese market, WeChat is one of our hobbyhorses. Our experienced China marketing team gladly accepted this request and created a promising WeChat marketing concept for Heberlein.

In the end, we didn't just develop and design individual media for Heberlein, but created a holistic concept that encompasses all essential aspects of visual communication. In this way, we visually redesigned Heberlein's brand image both offline and online, so that it perfectly fits the innovative and future-oriented company.
FULL SERVICE SUPPORT –
OUR SERVICES FOR HEBERLEIN AT A GLANCE:
Would you like to learn more about our media design services? You can find more information on our website.
Or feel free to contact us directly! We will be happy to advise you personally on our services and offer a wide range of solutions.