The travel industry is all about customers' personal preferences. A company in this industry must get a good sense of its customers, understand their needs and, ideally, create others if it aims to successfully offer its customers custom-fit experiences. A newsletter on current travel trends and offers for families cannot therefore simply be sent to all contacts. It has to be differentiated more precisely in order to provide, for example, couples, luxury vacationers, or club members with interesting content that really interests them.
The challenge: huge amounts of data & finding the ideal tool for segmentation
TUI was looking for a tool that would allow them to send strategically valuable newsletters to predefined segments. The goal was to perform segmentation based on user data. Ultimately, the decision fell on the marketing automation tool Mautic – the open source automation solution for monitoring, lead management, social media management with resources for creating landing pages and comprehensive email marketing.
In addition to choosing the ideal marketing automation tool, selecting the optimal data management platform which allows connections between different systems was a challenge. After a thorough review of all options, TUI chose ApiOmat – a platform for digital services and intelligent business applications including the use of artificial intelligence. ApiOmat now serves as the hub for the database and the connected tools. The platform is highly efficient and ideal for managing multiple applications and large amounts of data.
Technical implementation at the highest level
Initially, all relevant data from existing systems such as the Umbrella project management system, in which all orders were managed, was migrated to the new ApiOmat system. The data is read, compiled, processed and enriched in a centralized manner in the Data Lake.
We used the AWS Cloud (Amazon Web Services) as the server environment for the Data Lake and the newsletter tool. W4 takes care of the ongoing operation as well as the maintenance and care of the technical infrastructure.
Of course, a clean, GDPR-compliant double-opt-in process is also part of every newsletter tool. We have also set this up for our customer.
With the new setup, TUI can operate clean, comprehensive data management on a single platform and access a complete and consistent data basis. This now serves as a strong basis for personalized marketing measures and segment-based newsletter distribution. Contacts in the Luxury, Family, Couple or Club segments now receive newsletter content tailored directly to their needs thanks to data consolidation and marketing automation.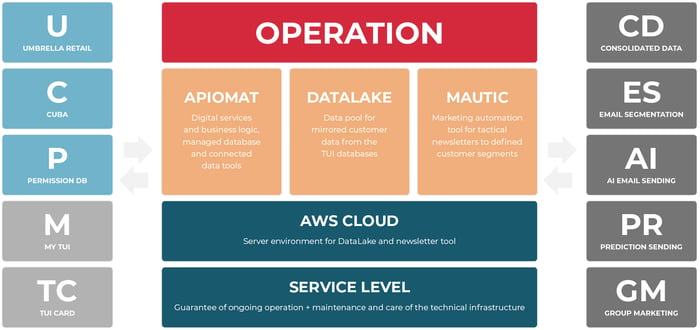 Benefits at a glance: