Leadfeeder is a website intelligence tool that empowers sales and marketing teams with insights on who is visiting their website, what they're viewing, and how they're finding you. Using this behavioral intelligence, marketers and sales can discover new leads or retarget leads on platforms such as LinkedIn — all based on your anonymous website traffic. In addition, Leadfeeder allows marketing teams to pass leads to sales teams so they can identify and qualify the companies that visit the website anonymously.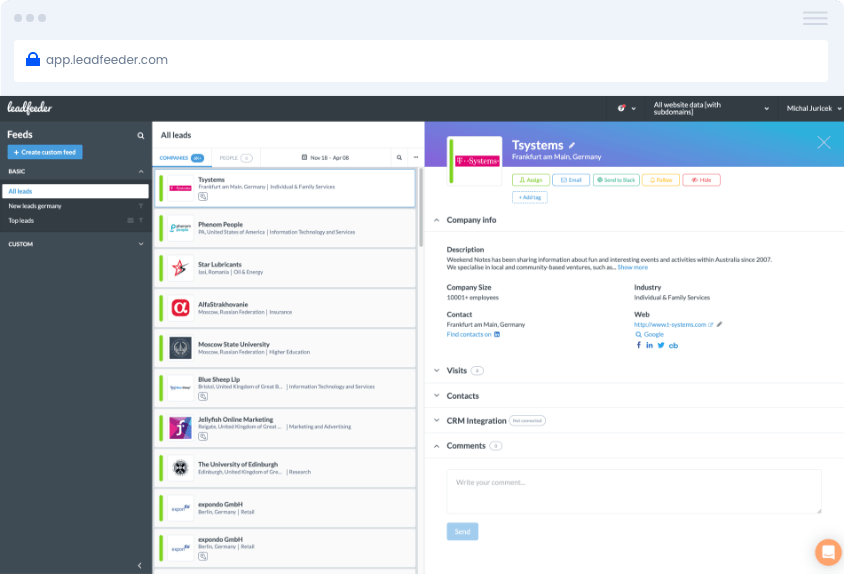 this is what leadfeeder offers
HubSpot CRM Integration
Integrate Leadfeeder with your HubSpot CRM to accelerate your sales pipeline. Finding new customer leads is tedious, and finding meaningful data to help you make the sales call is even harder. Leadfeeder has now simplified this: with the integration, you can fill your HubSpot CRM with company (data) that visit your website and thus accelerate your sales process. Don't wait for your customer to contact you - or worse, one of your competitors - but contact them. Automatically create offers, assign a responsible person and set a pipeline stage in HubSpot as soon as Leadfeeder identifies a business on your website. Integrate Leadfeeder into your current HubSpot workflow by automatically or manually creating and updating businesses, deals and tasks.
Integration with other sales & marketing tools
Leadfeeder can not only be linked with HubSpot, but also with other CRM systems such as Pipedrive, Salesforce and Zoho. The integration of Slack, Microsoft Dynamics 365, Google Analytics and MailChimp is also possible.
E-mail campaigns
Can results from email marketing campaigns help with lead generation? The answer is yes. For example, if you use MailChimp as an email marketing tool, you should link it to Leadfeeder. This enables you to obtain important information about the activities of your potential leads as a result of an email campaign. Currently, you can only see which link a person clicks on in your campaign, but you do not learn which other pages are visited beyond that. Leadfeeder fills this data gap. But even if you don't use MailChimp, you can still get the same results by using UTM parameters. This way you know exactly which pages are visited by which company and can then follow up with the right offer at the right time.

GDPR compliance
The Leadfeeder tracker collects behavioural data from all website visitors to the Amazon Web Services infrastructure. This includes the pages viewed, the visitor source and the time spent on the website. All of this data is transmitted in encrypted form. The visitor's IP address is collected to identify the company and geographical location. Leadfeeder only displays company visits; all users with private IP addresses are automatically filtered out. All visit data is then aggregated at the company level. Leadfeeder subsequently enriches this company data with contact data for individuals from publicly available data sources. Partners for contact data include Hunter and FullContact.
If you use Leadfeeder and want to comply with the GDPR, we recommend the following:
● Indicate your use of Leadfeeder in the same places you indicate your use of Google Analytics.
● Indicate your use of Leadfeeder in all places where you list your use of tracking and cookies.
You want to know exactly who is behind the visitors to your website? We will advise you in detail on the possibilities open to you with Leadfeeder and support you in developing the optimal solution for your company. Contact us now!